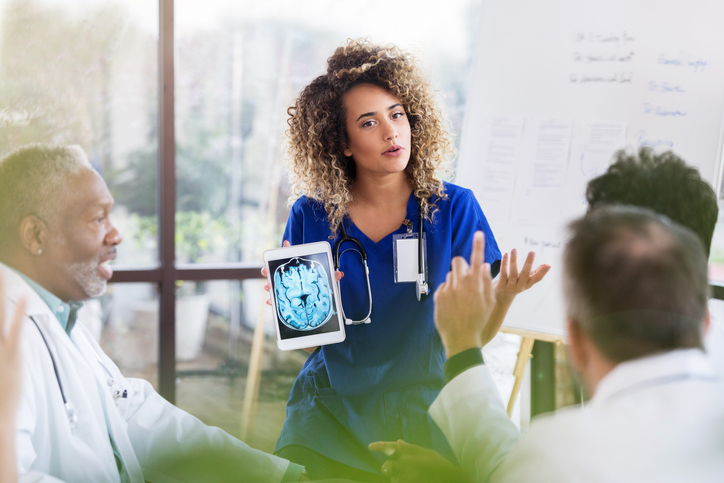 The introduction of electronic health records (EHR) has caused a transformational change in medicine, but there is an even larger movement in the future that caregivers across the world are glimpsing — robots and the Internet of Things (IoT). It took more than 50 years for EHRs to progress from their early beginnings in the 1960s to their extensive use today. While the next full wave of the robot revolution may take decades, the technology challenges of early introduction of cloud computing and IoT are already emerging. From cybersecurity to data consolidation and connectivity, see how IoT and the adoption of cloud computing are already changing the healthcare landscape.
Providing Secure Connections for Disparate Data Sources
Electronic health records may be stored in various systems within a single organization, making it a challenge to ensure that each separate system has the full complement of security necessary to protect the important information being stored within. Managing communication between the platforms, ensuring that the endpoints are all secure and keeping access limited to "need to know" individuals can keep legions of technology teams busy for years — but is it enough? Recent attacks on major hospitals and other healthcare organizations have proved that cyberattackers are specifically targeting these organizations due to the richness of the data that is stored within their platforms. Without help from Orange County IT services personnel who are able to focus on data security and connections, it can be challenging for your organization to ensure that your sensitive patient and financial data is fully protected. It is increasingly important that you are able to view all data and security needs through a single pane of glass: aggregation software that allows you to tightly manage your disparate data sources and applications.
Safeguarding Patient Data . . . and Revenue
Your healthcare organization's revenue is tightly tied to your patients, and you stand to face significant losses in productivity and patient trust in the event of a highly-publicized data breach. A recent IBM study shows that it takes an average of 191 days for organizations to identify a data breach, much less begin remediation. It is easy to imagine the amount of devastation that an unsavory actor could bring upon your sensitive business systems and data within that amount of time. Remediation would need to be triggered as soon as possible, and can take weeks or even months before your systems are back to a high level of security and stability. Each day that you're losing productivity can cost thousands of dollars for small businesses and many times that amount for major hospitals. When you add in the cost of lost patients, notifications and any additional services that may need to be provided for those affected by a breach or data loss — the losses can run into the millions of dollars. Unfortunately, many healthcare organizations are not budgeting the necessary dollars for cybersecurity and data consolidation to protect against this type and scale of loss.
Security Challenges with IoT and Cloud Adoption
As robots and other IoT are introduced into the healthcare world, there are added layers of security that must be considered. Data that is stored in the cloud can be accessed by healthcare assistants, such as the relatively new TUG4 by Aethon. This "tugboat" of an assistant is strictly meant to move items from one location to another such as trays of food and laundry. However, in order to be successful, these robots need to be programmed with the layout of the hospital or clinic — meaning they will have access to where other items are stored within the building. This information is not only stored locally but can be accessed by mobile devices and other remote locations, which means it could potentially be attacked. This doesn't mean that healthcare organizations should stop adopting these future technology solutions, simply that endpoint and cloud security should be included in the same conversation.
How Orange County IT Services Can Protect Healthcare Data
Creating a comprehensive data and endpoint security strategy allows your organization to be confident that your business is protected from the potential losses that can occur as the result of a cyberattack. Your Orange County IT services professionals at The Orange Crew have extensive experience working with healthcare organizations and can help navigate the various regulatory issues while providing secure solutions that can help protect your business. Active monitoring can help reduce the impact of any threats that work their way through the security net with immediate remediation activities.
Protecting your data and endpoints starts with a firm understanding of your technology strategies and rollout plan, The technical professionals at The Orange Crew will work closely with your technology and business teams to understand what you are trying to accomplish and the timeframe, as well as creating a strategy that will work within your budgeting plan. Contact us today at 888-670-5066 or fill out our quick online contact form to claim your complimentary initial consultation.
Information Technology Aligned With Your Business Goals?
Philantech3 is a complete IT services & IT support company working with organizations in Spokane.